Now, for the Bono Vibe — my wife and I made our own elastic band, as indicated in your video, with my underwear. My husband and I were both wetters, but the alarm helped me and getting woken up at night helped my husband. It is my go-to toy for solo play. Woke up as the alarm info warned us the entire family. After 18 months on that hormone roller coaster, she was finally ready to start surgery. The first time I heard about this last year, I was so excited. I would recommend this product to any FTM that has bottom dysphoria and troubles like I had.

Kristal. Age: 19. My motto is: "don't dream your life but live your dreams!"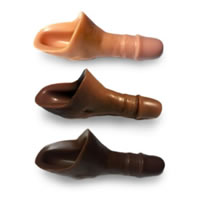 Adults only (18+)
A lot of people ask her why their hard-earned premiums should pay for "elective" surgery. Bend it into a funnel shape. Whatever you choose, be sure that you keep the STP clean, and practice using it at home before trying it when you are out. Man has always sought to create, and has indeed done so since time immemorial: Every FTM out there wants a comfortable prosthetic penis to pack easily and comfortably.

Marianne. Age: 30. Im young 20y
FTM Packers For Sale - Buy FTM Packing Gear
My 8 week old kitten is currently suffering with this problem. But Darius only seemed to get worse and still only passed a few drops of urine if any at all. I wish the vets had a leaflet about this as unfortunately you only find out all about it afterwards. Even for the very difficult ones, you still have options like a PU or antepubic cystostomy, they just have drawbacks and limitations, expense and aren't widely available. I am now 30, believing that I will never be happy in this world with a growing number of selfish women
October 28, Reply. Please suggest me, since 1year I have been facing bed wet problem when I drink alcohol, from that I disturb more, Actually I have been taking alcohol since 7 or 8 years. Good luck and you will grow out of it. Bedwetters in both sides of the family. Still, my complicated relationship with detachable dicks was only beginning. She has done this before. What am I going to do?